#6 UND has moved much closer to clinching a tournament berth. Winning at least 2 of the remaining 6 would have UND more likely than not in the top 13 in PWR going into the conference tournaments. Even if UND won only 0 or 1 of its remaining games, an at large berth would still be within reach with a good showing in the conference tournament.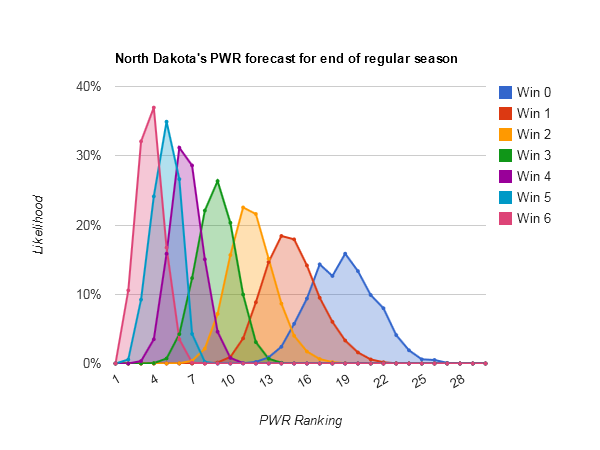 Given the above, UND faces a somewhat predictable situation this week of being able to make a small gain with a sweep over Denver, stay pretty much the same with a split, or fall a bit more if swept.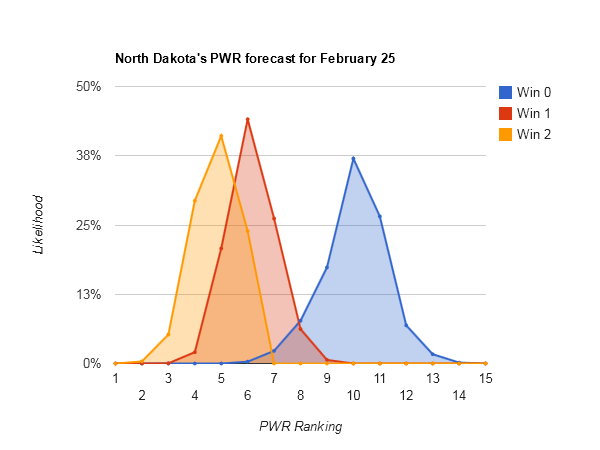 The final weeks of the regular season
Only three teams can't fall from being a TUC by the end of the regular season: #1 Quinnipiac, #2 Minnesota, and #3 Miami.
Quinnipiac (PWR Details) is particularly safe, even a catastrophe seems to only drop them 3 spots. Winning only 2 of their remaining 4 would leave them with only about a 10% chance of falling from the #1 spot. Their .7778 vs. TUCs is unassailable, and .5828 RPI is miles ahead of #2 Minnesota .5658. To put that RPI into perspective, if Minnesota swept its final 6 games their RPI would only rise to about .5738 (Minnesota RPI details).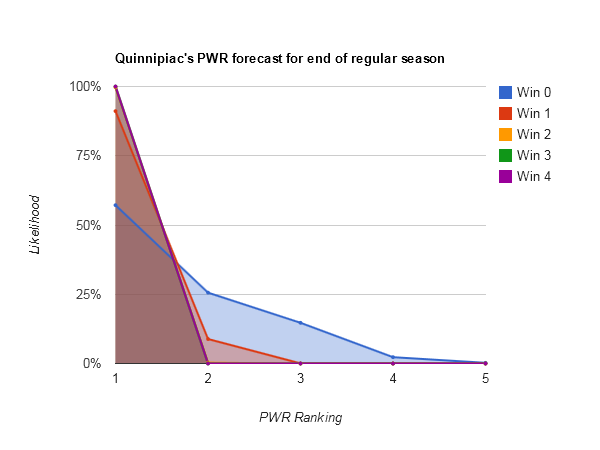 #2 Minnesota and #3 Miami each also have good RPI leads over the teams chasing them, coming in at .5658 and .5529 respectively, with #4 New Hampshire at .5477.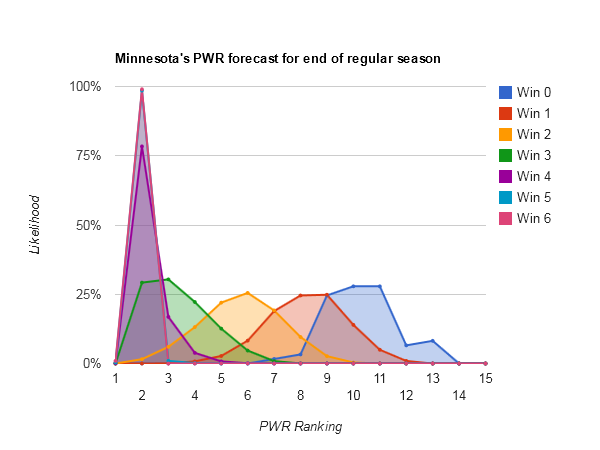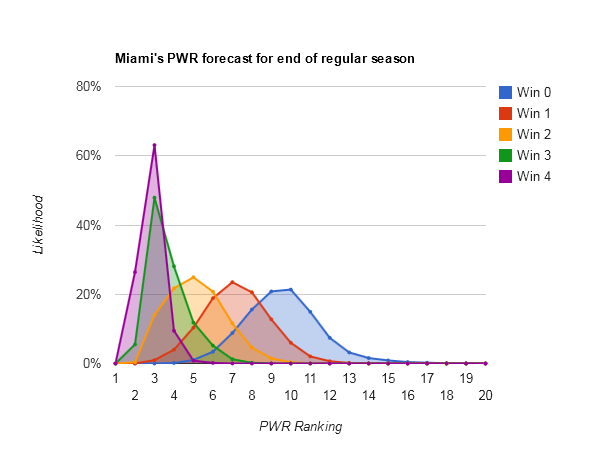 However, #2 Minnesota and #3 Miami aren't alone in vying for the #2 PWR ranking at the end of the regular season. A staggering 9 teams could claim that position: #2 Minnesota, #3 Miami, #4 New Hampshire, #5 Boston College, #6 North Dakota, #7 MSU-Mankato, #9 St. Cloud St, #11 Denver, and #14 Mass.-Lowell.
Interestingly, the list of teams that can finish top 4 isn't much longer, add only #8 Western Michigan and #10 Niagara to the list.
The team with the most upside potential for the remaining regular season is #29 Providence, which can climb to #8. That's mostly just because big upward moves are possible from that low a rank (#28 Colgate and #30 Colorado College could each rise to #14).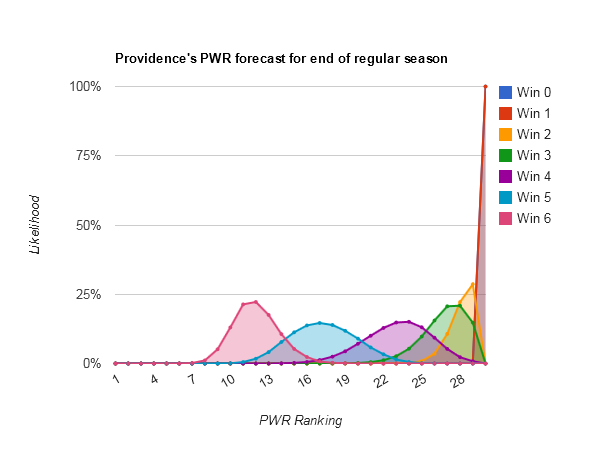 The team with the most downside potential for the remaining regular season is #13 Boston University (BU PWR details), which could fall to not being a TUC. #13 BU is only #20 in RPI, and is already losing most of its common opponents comparisons.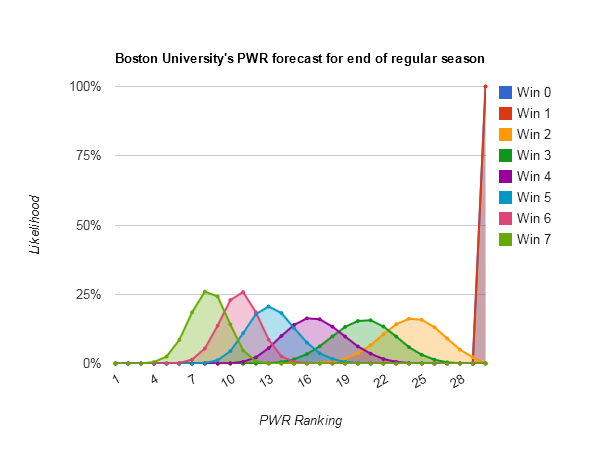 Methodology
Each forecast is based on at least one million monte carlo simulations of the games in the described period. For each simulation, the PairWise Ranking (PWR) is calculated and the results tallied. The probabilities presented in the forecasts are the share of simulations in which a particular outcome occurred.
The outcome of each game in each simulation is determined by random draw, with the probability of victory for each team set by their relative KRACH ratings. So, if the simulation set included a contest between team A with KRACH 300 and team B with KRACH 100, team A will win the game in very close to 75% of the simulations. I don't simulate ties or home ice advantage.
Resources