Bye weeks this time of year give us a great window into how much PWR movement is external to our team's own performance. While staying put at #16 is actually the single most likely outcome, anything from #14 to #17 is reasonably likely (#10 to #21 are mathematically possible).
| PWR | Likelihood |
| --- | --- |
| 10 | 0.001% |
| 11 | 0.063% |
| 12 | 0.654% |
| 13 | 3.459% |
| 14 | 11.078% |
| 15 | 23.734% |
| 16 | 33.407% |
| 17 | 19.939% |
| 18 | 6.276% |
| 19 | 1.305% |
| 20 | 0.084% |
| 21 | 0.000% |
The games/series that would benefit idle UND the most are:
Michigan sweep over Miami
Ohio St winning at least one over Michigan St
Ferris St sweep over Northern Michigan
Alaska winning at least one over Western Michigan
CC sweep over Denver
End of season outlook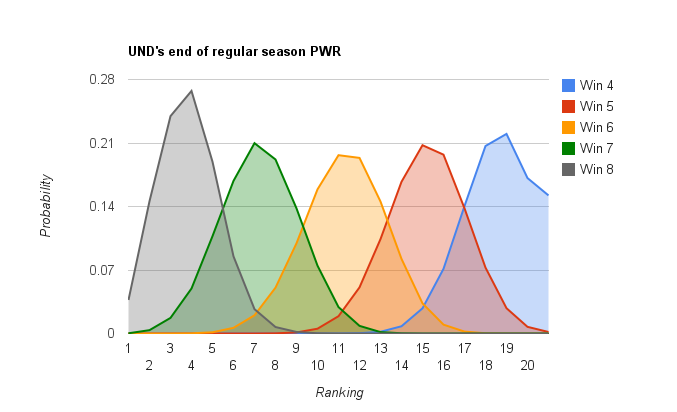 The story is unchanged from last week, UND can lose 2 games and still finish the regular season with a likely at-large tournament bid (PWR higher than 13). With a sweep last weekend, they've moved from needing 8 of 10 to needing 6 of 8.
Most important series for UND
bigchief asked last week which remaining series is most important for UND. They're all pretty close, but here are the average relative differences in rankings for UND based on its performance in each series:
Matchup
Average increase
in PWR from
1 win
Average increase
in PWR from
2 wins
UND over Denver
3.67
7.67
UND over UMD
3.70
7.49
UND over MTech
3.55
6.81
UND over Mankato
3.07
6.17
For example, if UND sweeps Denver it finishes an average of 7.67 PWR ranks higher than if it gets swept by Denver.
Checking up on last week's prediction
Last week I said that if UND swept, #15-18 were most likely. As you can see on the chart, the single most likely ranking was #16 at about 22%, which is exactly where UND landed.
Similarly, UW showed a strong peak at #27, about a 61% chance, if UND swept. The Badgers currently sit at #27.
Mass. Lowell winning two of three last week prevented us from finding out if they were really on as precarious a cliff as I predicted, but they did land firmly in the predicted range for winning two. A split between Miami and Northern Michigan also prevented the big movement that seemed possible for both with a sweep in either direction.
Following Northern Michigan and Mass.-Lowell
These two continue to generate buzz, so here's a longer term (end of regular season) outlook for each.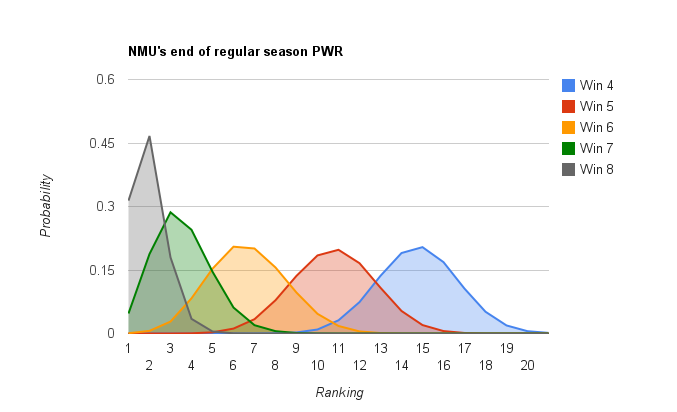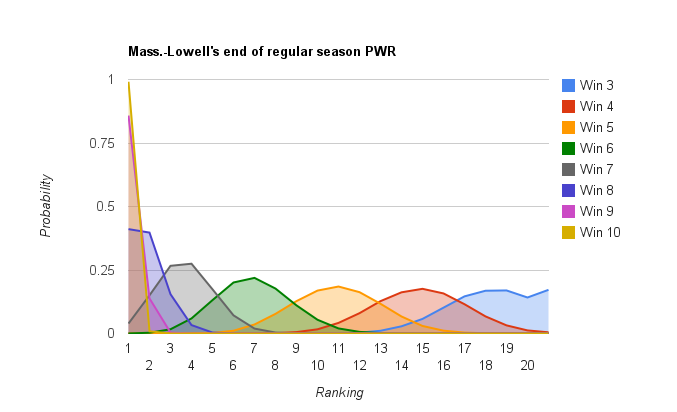 With 8 regular season games remaining, Northern Michigan is well-positioned, but needs to keep producing. A 1-seed isn't out of reach, but would require a good run.
With 10 regular season games remaining, Mass.-Lowell is in the driver's seat. Only a stunning loss of form, losing over half their remaining games, would likely drop them into the danger zone of not making the tournament. Winning 7 would position them well for a 1 seed.
Resources