UND has the potential to make a big move in the PairWise Rankings (PWR) if the Sioux can upset the struggling Bulldogs.
With tie-breakers, UND is currently #15 in the PWR. (Current PWR)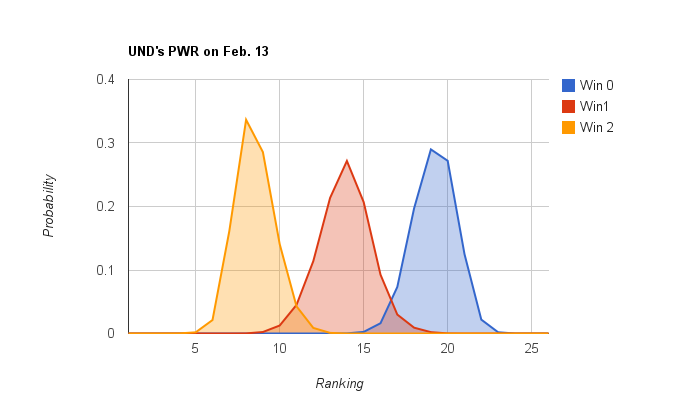 A sweep would most likely put UND in the 8-9 range (about 61% likelihood), with 7-10 probable (about 91%).
Even with a split, UND stands a fair chance of climbing a little. UND would climb to 12 or better in about 17% of scenarios, 13-14 in about 48%, stay at 15 in about 21%, and fall to 16 or lower in about 11%.
Looking ahead to the end of the regular season
UND's regular season outlook improved slightly over its weekend off. It's starting to look possible to lose three more before conference tournament time and still be well situated for making the NCAA tournament.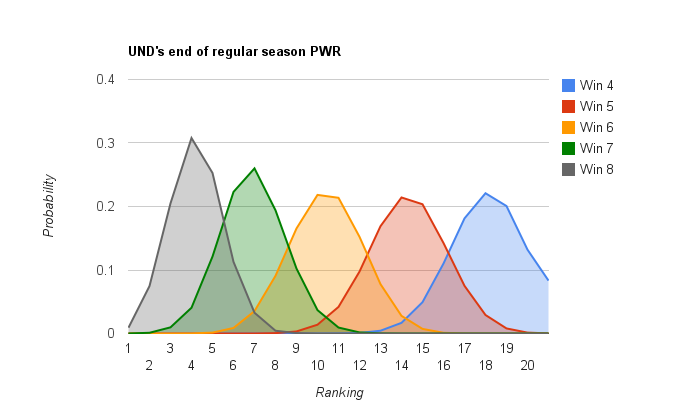 What to watch this weekend (other than UND)
Minnesota defeating Denver would be a big help to UND. UND could easily take the comparison with Denver by flipping both TUC and COP.
Alabama-Huntsville over Miami also has a big effect on UND's ranking. Presumably this is a defensive play, preventing Miami from the taking the lead in RPI and the comparison, should UND falter this weekend.
There are a number of lesser series that seem to have RPI implications that could help UND this week:
Bowling Green over Northern Michigan
Michigan over Michigan State (only helpful if they sweep)
Alaska-Anchorage over Mankato (only helpful if they sweep)
Alaska over LSSU (only helpful if they sweep)
Western Michigan over Ohio State (only helpful if they sweep)
Ferris St over Notre Dame (only helpful if they sweep)
The only surprise in that list is AA over Mankato, since neither is nor is threatening to become a TUC. I think it's an RPI play, AA is an opponent of UND's while Mankato isn't, yet. If that's what's happening, this is one of those outcomes that's helpful for a week, but doesn't matter in the long run.
Resources