Look back at the last week
UND is currently sitting at #3 in the PWR, behind BC and Yale. The Sioux win 25 of 28 comparisons, losing the comparisons to BC, Merrimack, and Yale.
Merrimack took the comparison with UND by sweeping UNH. That gave Merrimack over 10 games vs. TUCs and improved Merrimack's record vs. TUCs to slightly better than UND's.
This weekend
Getting swept or splitting will most likely result in UND staying put at #3 (though getting swept would open up the realistic possibility of a decline). A sweep for the Sioux would make a climb to #2 reasonably likely.
Games to watch
One biggie, no surprise:
Northeastern over Boston College — a single win by Northeastern would help UND overtake B.C. (BC's lead is a mere .0001 in RPI)
Others with a more minor impact:
Massachusetts over Merrimack — a pure defensive play. I don't see an obvious way for UND to take back the comparison with Merrimack this weekend. However, if UND faltered, Merrimack could overtake UND in comparisons won and PWR.
New Hampshire over Vermont — I honestly can't figure out in which scenarios this matters, but it does.
MTech over Denver — prevent Denver from overtaking UND if the Sioux falter.
Princeton over Yale — for Yale to lose the top spot this weekend, they have to lose to Princeton.
Yale Watch
If Yale loses to both Quinnipiac and Princton, they stand less than a 25% chance of holding onto the #1 spot.
If Yale sweeps, they're guaranteed to hold onto the #1 spot.
All scenarios in which Yale loses the #1 spot this weekend include a loss to Princeton, though it's technically possible for Yale to beat Quinnipiac and still fall.
For UND to take the comparison with Yale would require taking both RPI and TUC. Princeton is a TUC.
BC needs to take 2 of RPI, TUC, and COP. The only remaining opportunity to take COP would be if Yale lost to Colgate next weekend.
TUC Cliff Watch
The five teams near the TUC cliff, against whom UND has winning records, are all currently at or over .500 in RPI.
| Team | RPI | UND record |
| --- | --- | --- |
| Alaska | .5090 | 1-0 |
| St Cloud St | .5084 | 2-0 (2 remain) |
| Robert Morris | .5046 | 2-0 |
| Alaska-Anchorage | .5032 | 2-0-1 |
| Bemidji St | .5000 | 2-0 (2 remain) |
While it's true that UND has nowhere to go but down in TUC, a significant negative impact on UND remains unlikely.
Season Outlook
If UND keeps winning (e.g. 4 or more of the remaining 6 games), the Sioux stand a great chance of finishing the regular season in the top 4. The Sioux can do a lot to push themselves toward #2 overall, but to reach #1 overall is going to require some outside help.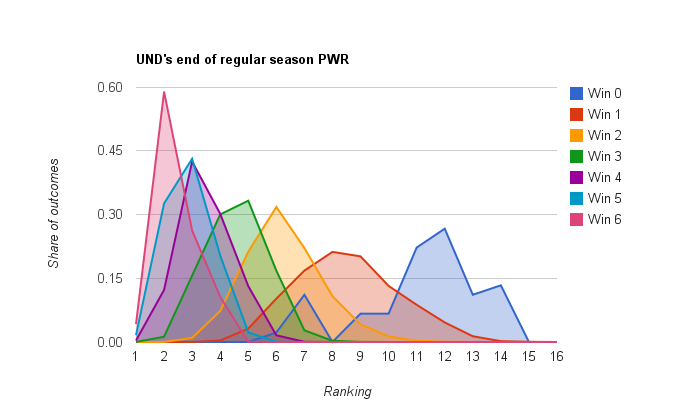 Resources
Current PWR rankings (SiouxSports.com)
Explanation of how PWR mimics NCAA tournament selection (CollegeHockeyNews.com)
USCHO Bracketology Blog (USCHO.com)