Beginning with the 2002-03 season, the WCHA changed its schedule rotation, creating "rivals" which would play each other four times each season. St. Cloud State and North Dakota were partnered up in a scheduling system that ended in 2009-10.
This season, even though the WCHA expanded to 12 teams (adding Bemidji State and Nebraska-Omaha) and implemented a new rotating schedule, UND and SCSU continue to play four games each year. For a complete look at the new WCHA schedule, click here.
Over the past seven seasons, the fans have made their mark on the partnership between the schools. The UND/SCSU rivalry has a commemorative fan trophy, thanks to the Center Ice Club at St. Cloud State University: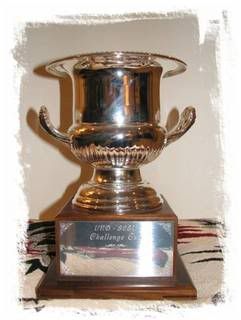 The UND/SCSU Challenge Cup is awarded to the team which collects more points in the four regular-season games. As you may be able to see in the photo above, the winning team is engraved for each year. UND won the Challenge Cup in 2005, going 3-0-1 against the Huskies. St. Cloud took the trophy back in 2006, sporting a record of 3-1-0 against North Dakota. In 2007, the Sioux won two games and tied the other two, collecting six points and the Challenge Cup. The next season, the teams shared the Cup, with UND and SCSU each winning one game and tying the other two. In 2009, North Dakota sprinted to the lead in the Challenge Cup race by winning both games in Grand Forks but needed a Saturday victory in St. Cloud to salvage a split on the weekend and reclaim the Cup. And last season, both series were splits, and the Challenge Cup was shared once again. If you're keeping track at home, UND has won the Cup three times, St. Cloud has claimed the Cup once, and the schools have shared the Challenge Cup twice.
Earlier this season, North Dakota swept a pair of games from SCSU in Grand Forks, so St. Cloud will have to return the favor and notch two victories this weekend to claim a share of the trophy.
The Challenge Cup will be on display at the Center Ice Club pre-game social this Saturday, February 19th from 4:00 to 6:00 p.m. at Legends Bar inside the Holiday Inn (Division Street and 37th Avenue) in St. Cloud. This is a great opportunity to meet fans on both sides of this hockey rivalry. There will be complimentary food and door prizes. The event is free and open to all fans 21 and older.
For a complete preview of this weekend's series, click here. As always, I welcome your questions, comments, and suggestions.