This one's a little different because each team could play 2 or 3 games.
Due to limitations of the simulator, I assume that every series other than UND/Minnesota will finish in two games. So, the extremes of these predictions are about right, but the frequency distributions in the middle could be a little off.
Without further ado…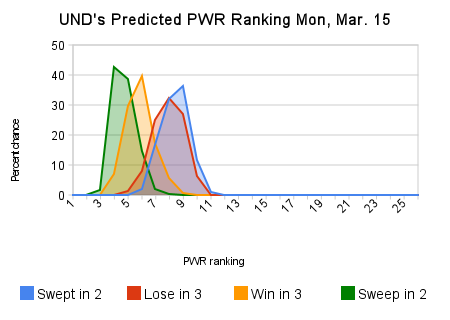 Overall Analysis
If UND sweeps, the Sioux could finish the weekend #3 (2% chance).
Even if UND were to get swept, the Sioux would be positioned for a pretty much guaranteed NCAA tournament berth if the season ended this weekend (>99% chance of being 11th or higher)
Leaving this weekend a #1 seed is: 45% chance if the Sioux sweep, a 7% chance if the Sioux win in 3
Crazy Stuff
If swept, the Sioux could still leave the weekend with a 1 seed. In one scenario out of a million, UND gets swept and finishes #4
If swept, the Sioux have an equal chance (one scenario out of a million) to leave the weekend #13 and in peril of missing the NCAA tournament
Of course, whether UND advances or not, there will be more games played after this weekend that will continue to move PWR a bit.
That's all for this post, but there's always more PWR discussion in the PWR thread.