Were you out on an Alaskan fishing boat all summer, spent all your spare time scheming how to get your share of the "stimulus" dollars, busy hosting the Tony Awards, or just otherwise lost track of UND athletics during the summer?  I've thrown together a quick cheat sheet of UND summer athletics happenings you might have missed.
Hockey
Moves around the NCAA

Dean Blais was selected to coach Nebraska-Omaha
Bemidji State and Nebraska Omaha will join the WCHA in 2010-11 (WCHA release)
The CCHA denied Alabama-Huntsville membership (many thought the WCHA poaching UNO would create an opening for UAH)
Player moves

After playing a season in the USHL, Forney signed with the Thrashers, will not return to UND (collegehockeynews story)
Frattin was dismissed from the team following after a DUI capped some off-season troubles (fightingsioux.com release)
Women's hockey — The University of Minnesota was stunned to see the Lamoureux twins ask to be released from their scholarships so they could transfer to UND (StarTribune story)
Football
Josh Murray declared academically ineligible.
Like many other sports, football got new uniforms (photo from fightingsioux.com).  See more on UND's new identity branding below.
UND recently announced that it is traveling to Montana for a game in 2010, with a return game expected in 2013.  With an eye on Montana's proclivity to take the home game then buy out the road game, UND secured a $100,000 buyout clause.  This topic is still getting lots of play in the scheduling forum thread.
It's not news, but the talk of UND football this summer has definitely been the Labor Day weekend season opener at Texas Tech (Sept. 5 at 6pm CT).
General
A.D. Faison's contract was extended through 2012 (UND release)
UND's D-I transition mate, the University of South Dakota, was admitted to the Summit League (USD release) beginning in 2011-12.  Summit commissioner Tom Douple had, somewhat surprisingly, previously weighed in on the UND nickname controversy, asserting that the conference would not take a look at UND until the controversy is "resolved" (the State of ND settlement with the NCAA apparently being insufficient).
Which leads to…
The battle over UND's nickname is coming to a close, one way or another.  On May 15, 2009, the N.D. State board of Higher Education unanimously decreed that UND must eliminate the Fighting Sioux nickname by Oct. 1 unless it secures 30-year agreements from the Spirit Lake and Standing Rock Sioux tribes granting approval to continue using the Fighting Sioux name.
Which leads to…
UND revised its Notre Dame-style interlocking ND logo to bear slightly less of a resemblance to Notre Dame's logo.  The letters are slightly shadowed and they reversed which part of the N strokes overlap the D. (announcement, logo identity sheet)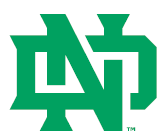 I kind of threw this list together by browsing the forums and news headlines.  What did I miss?