For frequent readers, the only surprise this weekend was the amusing groundswell of interest in my headshot.
There was no surprise in UND's PWR, which came out right in the meaty part of the curve again — quoting Forecasting the PWR… a look ahead at SCSU, "Split: 77% chance of landing #14 or #15". The Sioux split, and are #15.
Forecast
You might think this a boring week for predictions, given that UND doesn't play. Quite to the contrary, it's one of the more interesting to date.
Because UND doesn't play, there's only a single distribution of where UND is likely to end up. Because UND has no games, all movement through the distribution is caused entirely by other teams' results. It's an interesting look at how much PWR is influenced, in just a single weekend, by other teams' movements.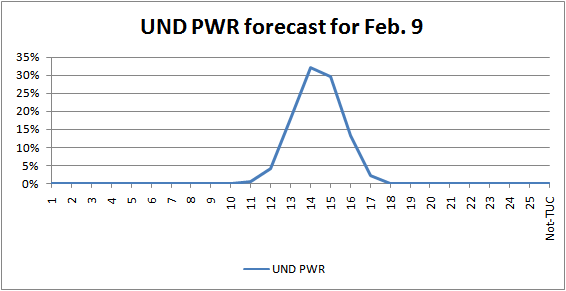 #14-#15 — 62% likelihood
#13-#16 — 93% likelihood
#8 — 1/1,000,000 chance
Who else to cheer for?
Note — updated as of 2:30PM CT, Feb. 2.  List was incorrect before then.  Hat tip to Siouxweet, see comments below.
The results this week are a little wonky because of all the split series in which a team is playing two different opponents.
Denver winning 2 games (Minnesota Duluth) gives UND an average PWR ranking increase of 1.16
Minnesota winning 1 game (Wisconsin) gives UND an average PWR ranking increase of .92 (the sweep increases that to .95)
Notre Dame winning 2 games (Ohio St) gives UND an average PWR ranking increase of .92 (1 game gives just .25)
Massachusetts winning 2 games (B.C. and Mass Lowell) gives UND an average PWR ranking increase of .86
Others the Sioux want to see win: Harvard (over Yale and BU), Colgate (over Princeton), and Cornell (over Princeton)
TUC cliff quirk of the week: Maine sweeping UNH gives UND a .85 raise, but a single win harms us.  Presumably the two wins would push Maine into TUC territory.
Special Timing Note
Given the Beanpot, note that this forecast includes predictions of tonight's games to create a predicted PWR as of next Monday, excluding that day's games.