Please join us for the UND/SCSU pregame social, an event which takes place in both Grand Forks, North Dakota and St. Cloud, Minnesota each hockey season. This is an opportunity for fans of the University of North Dakota and St. Cloud State University to gather, celebrate the great sport of hockey, and view the Challenge Cup, a traveling trophy which is presented to the team that wins the regular season series. The two teams shared the Cup last season with a split of the two games played in St. Cloud. For the record, the Huskies outscored the newly-minted Fighting Hawks 9-5 on the weekend. There was no return series at Ralph Engelstad Arena in 2015-16, but the teams will play in Grand Forks on February 3rd and 4th, 2017, and the Challenge Cup will be on the line: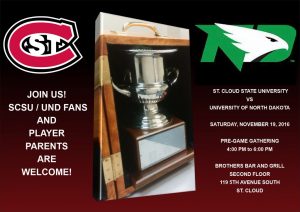 The pregame event will be held on Saturday, November 19th from 4:00 p.m. to 6:00 p.m. on the second floor of Brothers Bar & Grill (the same location as the past three years). The address is 119 Fifth Avenue South in St. Cloud, within walking distance of the Kelly Inn. The event is free and open to the public. A free appetizer bar will be available.
Fans of both teams enjoy the camaraderie at these social events and regularly comment that the connection between the two fan bases is among the best in college hockey.
Please mark your calendars and join us for this event. Here's to hockey!