UND's lackluster performance since A first look at the PairWise Rankings and UND's tournament possibilities has made the road to the NCAA tournament a little bit steeper.
That article predicted that UND could lose only 4 more of its remaining 15 regular season games to end the regular season comfortably at #13 or better in PWR. UND having gone 3-2 over the first 5 of those games, the new forecast shouldn't be surprising.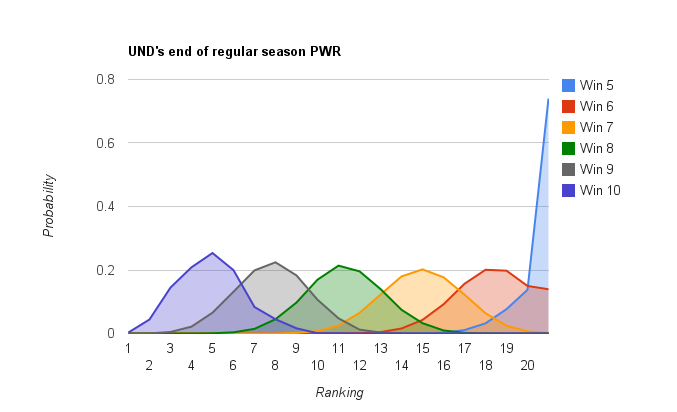 It looks like UND needs 8 wins in the remaining 10 games to stand a good shot of finishing in the top 13. Also remember that this prediction is for the end of the regular season, UND could easily finish in the mid teens and still climb to the high teens during the WCHA tournament.
UND this week
The current PWR table shows UND in sole possession of 19th. The opportunities for movement this week are pretty big: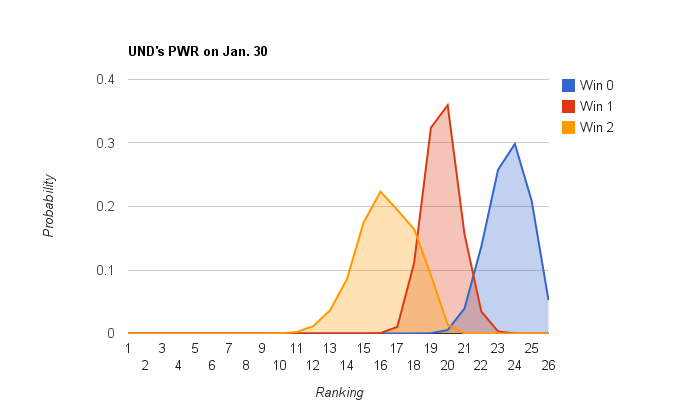 A sweep leads to the most indeterminate outcome — UND most likely (75% chance) would land in the 15-18 range, though a bit higher or lower are distinctly possible.
A split would likely leave UND in the 19-20 range.
Getting swept would most likely land UND in the 22-25 range.
It's also a big week for UND's opponent, also fighting for a playoff spot, the Wisconsin Badgers. They're looking forward to a likely PWR of anywhere from #18 to #28, depending on their performance this weekend.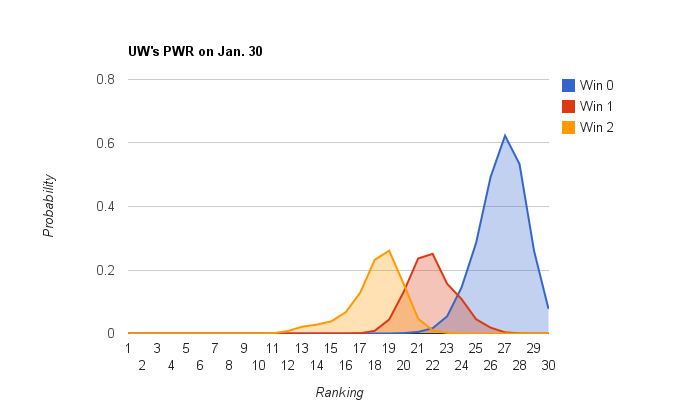 On the cliff's edge this week — Mass.-Lowell
Minnesota's big drop last week was exactly as forecast, which got me looking for this week's "Minnesota". The team sitting on the edge of a cliff this week is definitely Mass.-Lowell. Currently #3 in the PWR, they would need to win all three games in the coming week to be likely to finish #2 or #3 (84% chance). Get swept? #14-15 are most likely, with #16 or #17 a real possibility.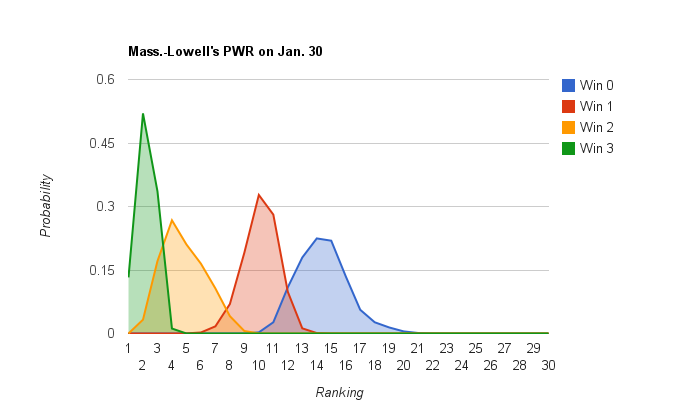 Series of the week — Northern Michigan vs. Miami
There's really only other series this week that could lead to even more PWR movement than the UND/UW series — Northern Michigan (#10) vs. Miami (#15). Northern Michigan's likely outcomes range from #3 to #17, while Miami's range from #6-#19.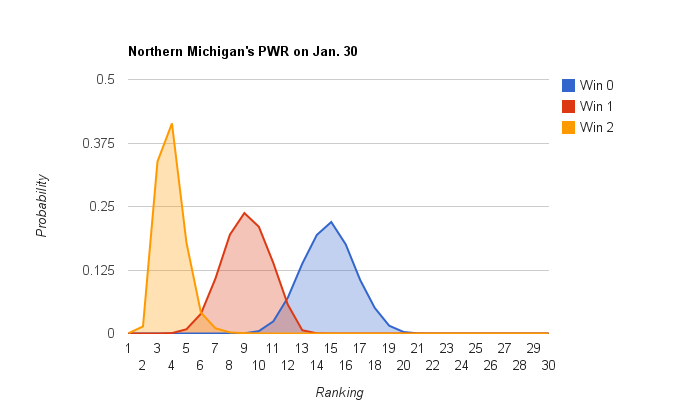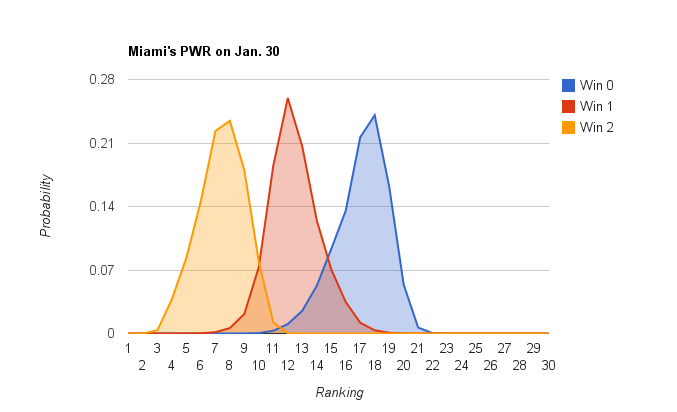 A few technical notes
The PWR rankings on USCHO have been different from all other source (CHN, TBRW, SiouxSports) today. That's because USCHO currently isn't dropping "harmful wins" from its RPI calculation. I haven't heard of any such change in the calculation, so will assume that USCHO just made a mistake and that the calculations here are right.
This week's projections are as of Monday Jan. 30, including any games on Sunday but not on Monday. It's getting tricky to pick an "as of" date when there are college hockey games most days of the week in the coming two weeks.
Resources