It's likely to be another quiet weekend for the Sioux in the PairWise Rankings, so this article will take a quick tour of some other WCHA teams in more interesting situations.
Though Duluth and Wisconsin seem in free-fall, they can still recover. St. Cloud's upward momentum should slow a little.
If there's one thing almost everyone in the WCHA can agree on, it's that Bemidji State should sweep the Gophers and stay a TUC.
The analysis below focuses just on this week's possible outcomes. There is some good discussion on the season outlook and what could happen to UND in the Bracketology 2011 thread.
North Dakota
PWR Rank #2
Comparisons: 30 won, 1 lost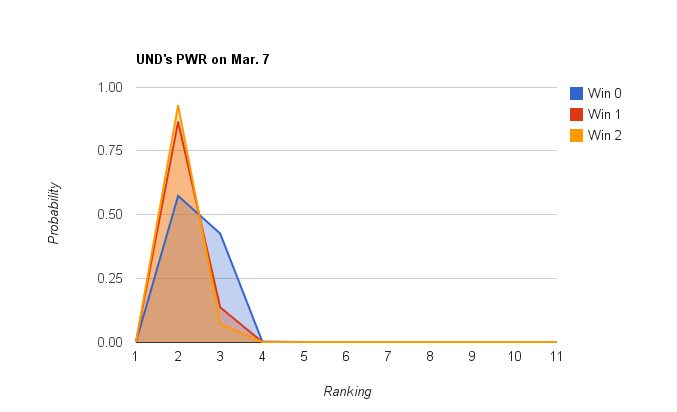 What UND wants this weekend:
UNH over BC. Shouldn't matter much this weekend, but if UND were to falter, BC is a little closer on UND's heels because it's closer in both TUC and RPI.
Denver
PWR Rank #5
Comparisons: 27 won, 4 lost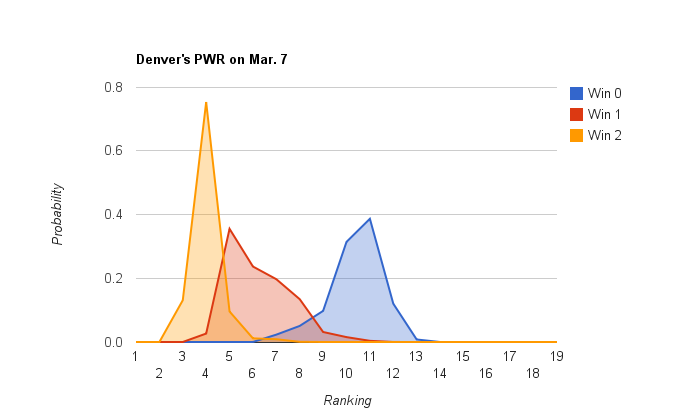 What Denver wants this weekend:
At least one BC over New Hampshire win (or UNH could take RPI and the comparison)
At least one win Bemidji St over Minnesota (so Bemidji St. stays a TUC; otherwise, even if Denver sweep the comparison w/Michigan could flip; if Denver does worse, comparisons w/Merrimack, Miami, and Union could be in play)
At least one AA over Mankato win (so AA stays a TUC, same reasons as above)
UMD over UNO. Both teams are chomping at the Pioneers' heels, but UNO is actually slightly closer due to its better TUC record than UMD.
UNO
PWR Rank #8
Comparisons: 23 won, 8 lost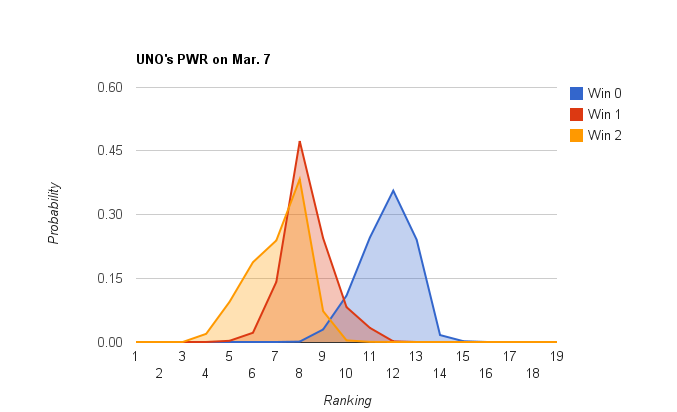 What UNO wants this weekend:
Wants BC to sweep New Hampshire. UNO is losing both comparisons, but New Hampshire can be flipped by grabbing RPI this weekend.
Wants UMN to sweep Bemidji St. UNO is a pretty exclusive club, with Minnesota, hoping for this outcome. The Mavericks are currently losing the comparison with Bemidji State because of their 0-3 head-to-head record. A sweep by the Gophers would be enough to overcome that damage.
Providence over Merrimack. UNO can take RPI and TUC in the comparison with Merrimack with a sweep.
UMD
PWR Rank #11
Comparisons: 21 won, 10 lost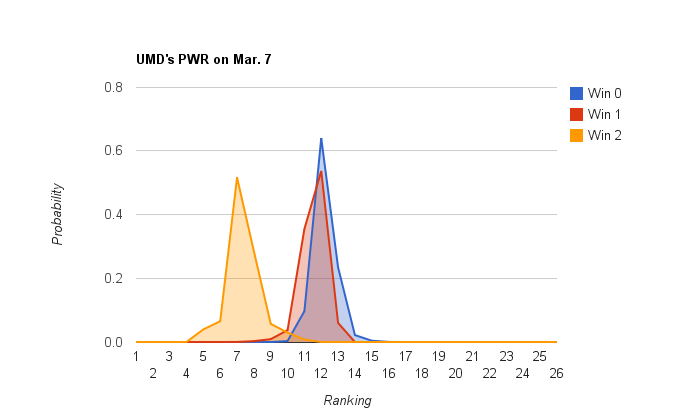 What UMD wants this weekend:
BC to sweep New Hampshire. UMD already loses the comparison to BC, so gaining some distance on New Hampshire (a mere .0006 behind in RPI) maximizes UMD's PWR this weekend. However, this is a rare example of this weekend's best outcome perhaps not being best in the long run. If UMD plans on winning a lot, they might prefer to see BC lose because they're going to separate themselves from UNH anyway, and would like to be able to more easily pass BC in the conference tournaments.
Providence to sweep Merrimack. Merrimack has a mere .001 lead in RPI.
SCSU
PWR Rank #20
Comparisons: 13 won, 18 lost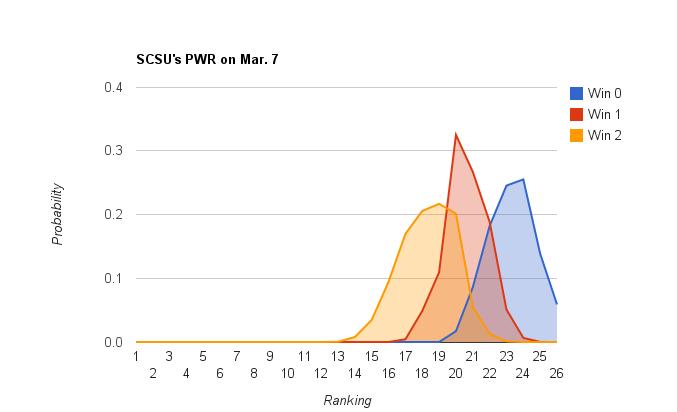 What SCSU wants this weekend:
Bemidji St. over Minnesota. This series is huge for St. Cloud. SCSU wants Bemidji State to stay a TUC so it can keep its 3-1-0 record vs. them, or at least 4 currently won TUC comparisons could flip. Also, SCSU could take the comparison with Minnesota if the Gophers lose.
Lake Superior over Ohio St. SCSU doesn't want OSU to become a TUC, or they would give 3-1-0 to Alaska, 2-2 to Ferris St, and 1-1 OSU (against all of whom SCSU has a razor thin TUC lead).
Western Michigan sweeps Ferris St. This one is a little more complicated and seems to be another short-term play, but it matters a lot (I think it may mostly come into play defensively if SCSU loses one). Edit — see the comments at the bottom, this series is actually next weekend.
UW
PWR Rank #21
Comparisons: 11 won, 20 lost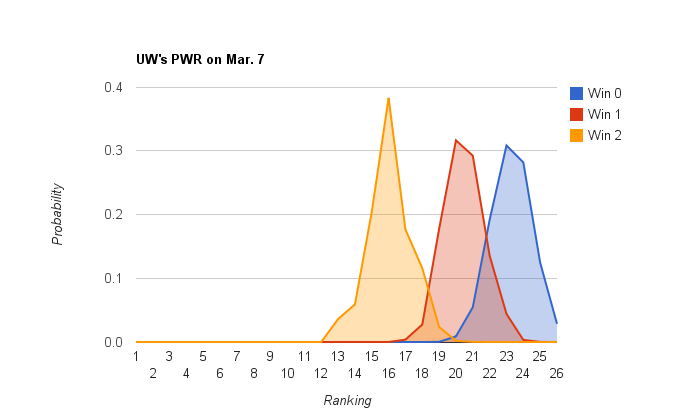 What Wisconsin wants this weekend:
Bemidji St. over Minnesota. Yep, TUC-cliff and a 2-0 record vs the Beavers. Plus, with the right outcomes in its own games, the Badgers can take the comparison with Minnesota.
Michigan St. over Alaska. The Badgers want Michigan St. to become a TUC, which a single win will probably do. UW's TUC record is so miserable (.375) that there's significant upside potential.
Mass. sweeps Maine. Hard to believe the Badgers can take the comparison with Maine this weekend, but it seems they could. This sweep could give UW the COP criterion, and either TUC or RPI could be within reach.
UMN
PWR Rank #19
Comparisons: 13 won, 18 lost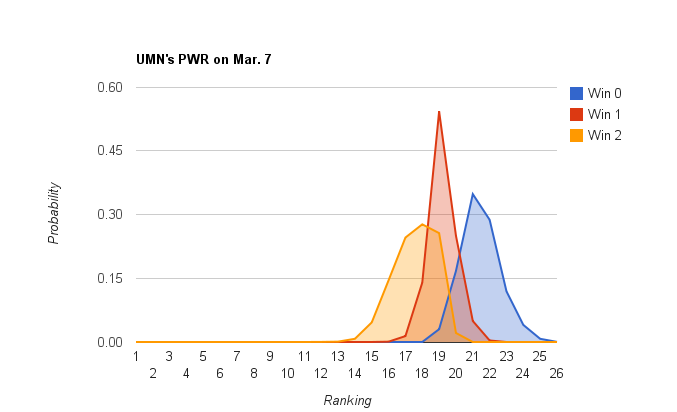 What Minnesota wants this weekend:
Mass. sweeps Maine. Same as UW, Mass. is a common opponent with Maine. Unlike UW, the Gophers already have the RPI comparison over Maine, so this would give UMN the comparison.
Colgate over RPI. This must be a defensive play to keep Rennselaer from passing the Gophers in RPI if the Gophers slip.
Colorado College
PWR Rank: #14
Comparisons: 17 won, 14 lost
What CC wants this weekend:
Denver over St. Cloud. This is another useful in the short run, giving up in the long run situations. Denver has the comparison with CC right now, so hoping for this is kind of throwing in the towel on ever catching Denver. BUT, it would prevent SCSU from overtaking the Tigers if CC loses.
Bemidji St. over Minnesota. But not for the usual TUC cliff reason; in fact, CC is actually 0-2 vs. Bemidji St. This is another defensive play. If CC loses at all, Minnesota could easily overtake them on RPI.
Colgate over RPI. CC could take the comparison with Rensselaer by taking RPI.
Quinnipiac over Brown. CC wants Quinnipiac to stay a TUC.