Look back at last week's forecast
Things went about as well for UND as possible during the bye week, with almost every game going as last week's forecast predicted best for the Sioux.  That landed UND at #11 in the PairWise Rankings today.
Prediction of UND's PWR after this weekend
If you think of UND as the near the top of its natural range, for how it's done to date, most of the outcomes are downhill from here.  A climb is possible with a split, but only about a 5% chance.  A sweep would let UND climb in about 75% of possible outcomes (to as high as 6 or 7 in about 9% of scenarios in which UND sweeps).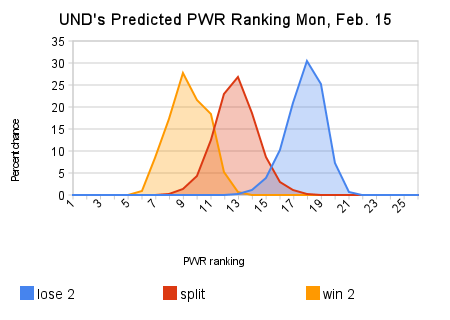 Games to Watch
As usual, the ranges in which UND's PWR could land are pretty broad, even for each fixed UND outcome.  Lots of non-UND games can have a pretty big effect on UND's PWR.  These are the most important non-UND games of the week:
Merrimack over Vermont (win two +1.2, win one +.24)
Northeastern over Massachusetts (win two +1.2, win one +.60)
Boston Univ over Maine (win two +.84, win one +.35)
Lake Superior over Ferris St (win two +.74, win one +.42)
Mankato over Wisconsin (win two +.66, win one +.15)
While explaining why each of those is important is a bit beyond the scope of this post, PWR enthusiasts can study UND's PWR Details to try to figure it out.
First look at end of season
With only 8 games remaining in the regular season, it's a good time to take a first look beyond the upcoming weekend to see where UND could end the regular season in PWR.
A #1 seed is still possible, but will take a good streak from the Sioux. Remaining a TUC is almost a certainty, unless the Sioux really slump. To feel pretty confident about making the NCAA tournament requires winning 6 of the remaining 8 before going into the WCHA tournament. However, a good WCHA tournament showing or a little bit of luck, and the Sioux could make the NCAA tournament after winning as little as 3 of the next 8.